Quilling Strips - HAND CUT
Regular price
Sale price
$0.00 USD
Unit price
per
Sale
Sold out
Cut your quilling strips by hand using my free PDF templates. Watch my s
tep-by-step tutorial and see various ways to make your own paper strips.
Includes a bonus page at the end that I'm sure any quiller will enjoy!
Widths
Inches: 1/16, 1/8, 1/4, 3/8, 1/2
Millimetre: 1, 2, 3, 5, 10
Materials
• sharp craft knife (Method 1 + 2)
• metal ruler (Method 1 + 2)
• cutting mat (Method 1 + 2)
• rotary cutter (Method 3)
Method 1: Cut Quilling Strips With Margins
Print the template directly onto your paper. Cut from the printed line at the top to the bottom, leaving margins. These margins help keep your paper extremely tidy. 
Method 2: Cutting Without Margins
If you don't want to waste any scrap of paper, you can cut edge to edge. Print the template on regular paper and cut off both "rulers". Tape these rulers to your cutting mat, leaving enough space for the full length of your paper in between. Cut edge to edge, with no wastage. You would never want to print the markings onto your paper, and then cut all the way, because the markings would show on your quilling strips, and that just won't do!
Meth
o
d 3: Rotary Cutter
Watch the video to see how to find your exact cutting edge. You'll also see how to make a jig for cutting the same strip width without needing to look at your markings at all. Discover how to make a fringe so you can trim off the excess markings.
Bonus: Editable Message
Type a message onto your quilling strip, then cut it out. Wrap a gift or start quilling with your customized ribbon. It's like a message in a bottle!
Share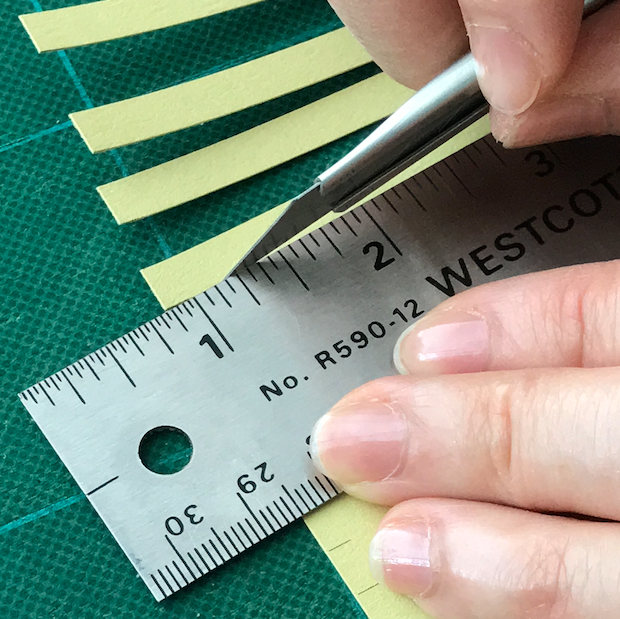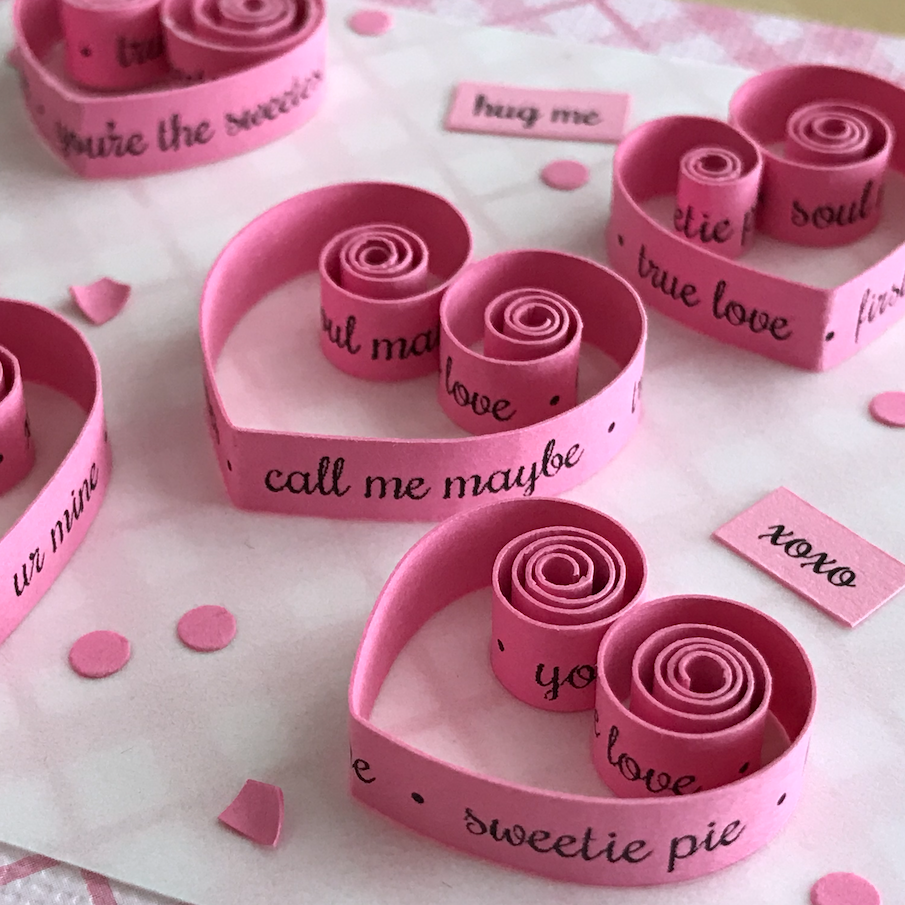 Was unable to download it.
brilliants
Tried marking out 3mm myself but eyesight not 100% and just being a fraction out made the strips noticeably uneven. These templates are just brilliant. Print one sheet off as required - then cut off only the strips you need. Easier to store flat paper than loads of ready cut strips. Plus you can choose what colour and weight of paper you use. I found it more satisfying knowing i'd cut them myself.
I love this site very friendly and have answers for all questions. Thank you very much
Quilling Strips - HAND CUT
Cutting Your Own vs Purchasing
It's nice to have that guide. It's still difficult to cut narrow straight strips.